FBISE HSSC 1 Result 2023: Federal Board 11th Class (HSSC 1) Result 2023 is likely to be announced in August. Students can search HSSC Part 1 Result by name and roll no. This page will discuss the expected date of the result declaration.
The Federal Board of Intermediate &Secondary Education (FBISE) Islamabad  Higher Secondary School Certificate (HSSC) Examination consists of two parts:
A. HSSC Part-1 (11th Class).
B. HSSC Part-2 (12th Class).
However, the Federal board conducted the HSSC Part 1 and Part 2 annual exams at the end of Class 11th and 12th, respectively. In addition, the HSSC supplementary annual examination for Part 1 and Part 2 is being held in the same year. Therefore, the board is responsible for publishing supplementary result within 60 days from the exam date.
FBISE HSSC 1 Result 2023:
The HSSC 1 result is always important for students to pass the 11 class and be promoted to class 12th. The date sheet of FBISE 2023 is already published. Therefore, according to the date sheet, the HSSC 1 examination will be held on 09th April 2023 (Thursday).
The Federal Board of Intermediate & Secondary Education (FBISE) Islamabad allows HSSC Part 1 students to search FBISE results by name, roll number, and by institution name. As the FBISE has its grading scheme, the result card shows grades for a particular subject.
In addition, students can also obtain their results by using Mobile SMS. However, students may collect hardcopy of mark sheet from their respective schools.
FBISE HSSC 1 Expected Result Date 2023
In general, the Federal Board, Islamabad, will likely announce the HSSC Part 1 result in the middle of August. In addition, before the result was published date, they also announced the top 10 position holder name. Moreover, the 11th class result is released at 10:00 AM Pakistan Standard Time (PKT).
Name of the Examination

Tentative Release Date

Higher Secondary School Certificate (HSSC) Part 1
Between 11 August 2023 to 20 August 2023
Updated on 20/03/2023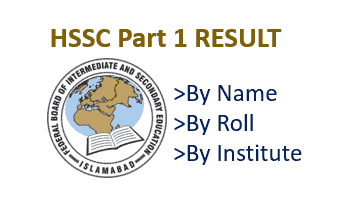 How to check 
FBISE Result 2023 HSSC 1 search by name?
In general, the Federal Board of Intermediate & Secondary Education (FBISE) Islamabad conducted a press conference before publishing FBISE result 2023 HSSC 1 release date. Candidates are welcome to check the federal board result search by name. Follow the steps below to get your results.
First, go to the FBISE Official Website: www.fbise.edu.pk
Second, on the Home page, click on FBISE HSSC Result 2023
Third, now select your examination name as HSSC 1.
Fourth, now enter your name or HSSC Part 1 roll number
Finally, click on the submit button.
Note: After the final step, Candidates can view and check their grade report on the webpage. It is recommended to download the FBISE HSSC 1 Result 2023 in a PDF file for future reference. FBISE represents the marking scheme as a grading system. Therefore, you may also look at FBISE HSSC Grading Scheme 2023.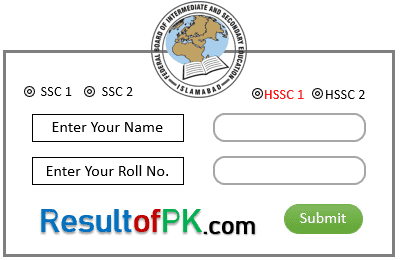 How to check FBISE
HSSC 1 result via Mobile SMS?
The board provides an SMS facility for rural area students with technology updates. In Pakistan, there is a various rural area where NO internet connection is available. Note the following steps to get the same.
SMS Format 
Go to the write message option on your mobile phone and type the following format.
FB(Space)[Roll Number] 5050
For example, if your SSC annual exam roll number is "987412", write as follows.
FB 987412
Press send button to 5050
FBISE
HSSC 1 Result Statistics
The following table shows the passing percentages from the 2013 to 2017 academic year. However, this is an abysmal performance by the student. The respective authority must look at this matter to improve the quality of teaching. Most importantly, compared with the HSSC 1 result passing percentage is lower than the FBISE HSSC 2 Result.
| | |
| --- | --- |
| Academic Year | Pass Percentage (%) |
| 2013 | 48.5% |
| 2014 | 50.9% |
| 2015 | 58.85% |
| 2016 | 57.8% |
| 2017 | 59.23% |
To get updates on FBISE HSSC Part 1 Result 2023 check the official website or join our Facebook page for more updates.