Federal Board of Intermediate and Secondary Education (FBISE) Islamabad 2023: Federal Board Result 2023 www.fbise.edu.pk. This article is about FBISE Result 2023. Students can check their Federal Board Result online.
FBISE Result 2023 is likely to be published in July and August. In general, in the first week of July SSC result is released and the HSSC result is published in August.
FBISE 2023
The Federal Board of Intermediate &Secondary Education (FBISE) Islamabad is administered by the "Ministry Of Federal Education and Professional Training". According to the FBISE Date sheet 2023 the annual exam is postponed.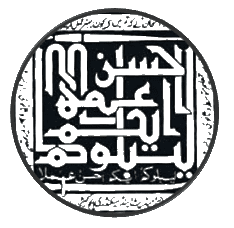 The FBISE is responsible for providing a good educational framework to organize, regulate, develop and control Intermediate and Secondary Education in Islamabad province. The main function of FBISE 2023 is to.
Affiliation: Give Affiliation to various institutions for SSC and HSSC education within Pakistan and abroad.
Mode of Instruction: Prescribe various courses of instruction, mainly SSC and HSSC.
Facilities: Monitor and ensure required facilities in the affiliated institutions.
Exam & Results: Conducted annual and supplementary examinations and published their results.
FBISE Result 2023
The Federal Board of Intermediate &Secondary Education (FBISE) Islamabad allows students to search their results by name, roll number, and institution name. In addition, students can also obtain their results by using Mobile SMS. However, students may collect hardcopy of marksheet from their respective schools.
How to check

federal board result search by name?
After the FBISE result 2023 release date, candidates are welcome to check the federal board result search by name. Follow the steps below to get your results.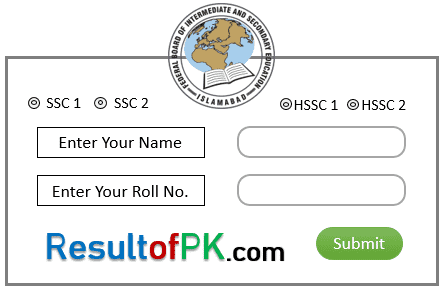 First, Goto the FBISE Official Website: www.fbise.edu.pk
Second, On the Home page, click on FBISE Result
Third, Now Select your examination name (SSC 1, SSC 2, HSSC 1, HSSC 2)
Fourth, Now enter your name or roll number (in case you forget the roll number, check FBISE roll no slip 2023)
Finally, click on the submit button.
Note: On successfully submitted information, the student grade report will appear. At this point, students are recommended to download the FBISE Result 2023 in a PDF file.
How to check FBISE

results via Mobile SMS?
Just after the official announcement of the FBISE Result, candidates can get their grade status by sending an SMS via mobile. Note the following steps to get the same.
SMS Format 
Go to the write message option on your mobile phone and type the following format.

FB

(Space)[

Roll Number

] 5050
For e.g., if your SSC annual exam roll number is "6869874" then write as follows
FB 6869874
Press send button to 5050
FBISE Expected Result Date 2023
The following table shows the tentative federal board result released dates. The exact date of the FBISE Result will be updated soon. Keep checking this page for the latest updates. Generally, the result is released at 10:00 AM Pakistan Standard Time (PKT).
| Name of The Exam | Tentative dates |
| --- | --- |
| 9th Class Result (SSC 1) | 19 July 2023 |
| 10th Class Result (SSC 2) | 11 July 2023 |
| HSSC Part 1 Result (Inter 1) | 15 August 2023 |
| HSSC Part 2 Result (Inter 2) | 19 August 2023 |
| Supplementary | within 30 days from the date of the result |
FBISE Top Positions Holder 2023
A candidate shall be eligible for position holders who:
(1) Qualifies SSC/HSSC Annual Examination in the first attempt;
(2) Appears in the HSSC examination within 2 years of passing the SSC or equivalent examination.
(3) was admitted in class-IX/X, promoted to class-XI/XII and appeared in (See also: FBISE Merit Scholarship List 2023)
The position will be determined based on actual awards shown on the answer books. However, the final award will be considered if errors/omissions are found by the Re-checking Committee appointed by the Chairman Board and the same has been rectified.
Top Positions Holder 2023 will be declared based on the highest total marks in order of merit. In addition, Separate positions will be worked out for each group in the SSC and HSSC examination irrespective of gender discrimination in each group.
FBISE Result Statistics
The Federal Board of Intermediate and Secondary Education (FBISE) Islamabad published the average pass percentage from 2013 to 2017. According to the statistics from 2013 to 2017, the passing percentages were better in HSSC 2 than in lower grades.
| | | | | |
| --- | --- | --- | --- | --- |
| Year | SSC-I (%) | SSC-II (%) | HSSC-I (%) | HSSC-II (%) |
| 2013 | 61.09 | 77.67 | 48.5 | 72.3 |
| 2014 | 58.76 | 77.25 | 50.9 | 70.65 |
| 2015 | 64.23 | 76.69 | 58.85 | 73.51 |
| 2016 | 65.78 | 79.49 | 57.8 | 74.33 |
| 2017 | 66.88 | 83.36 | 59.23 | 74.26 |
To get updates on FBISE Result 2023 check the official website or join our Facebook page for more updates.