Gujranwala Board (BISE GRW) Smart Syllabus 2023 for Intermediate (1st year and 2nd year), Matric (10th Class), SSC (9th Class). Download new Scheme of Studies by Board of Intermediate & Secondary Education, Gujranwala.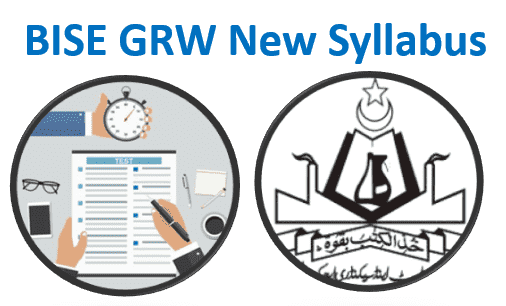 Gujranwala Board (BISE GRW) Smart Syllabus 2023
According to a notification dated 18-09-2015. The board notified that they have approved and Revived the Scheme of Studies at the Secondary School level from the academic sessions 2015-17 & onward in compliance with the orders of the Controlling Authority.
The Gujranwala Board (BISE GRW) offers qualifications for both English and Urdu medium schools. The revived SSC Scheme of Studies issued by the Curriculum Wing will be implemented from Academic Session 2015-17 and onward. The practical in each subject will be conducted separately after the completion of class 10th & 12th Examinations.
The marks of practical would be counted with theory marks obtained by the candidates. Accordingly, each SSC subject will be taught across both Classes IX & X. The Science Group and Humanities Group subjects are offered at the SSC level. The marks allocated to the subje& in the Revived The scheme of Studies are as follows:
Scheme of Studies Matric (Class 9th and Class 10th) (OLD)
Sl No.
Subject
Part 1
Part 2
Practical
1
Urdu 1 (In lieu   Geography of Pakistan-I

for Foreign Students Only)

75
75
2
English I
75
75
3
Islamiyat Compulsory-I OR

Ethics-I

For Non-Muslims only

50
50
4
Pakistan Studies-I

50
50
5
Mathematics-I

75
75
6
Physics-l

60
60
30
7
Chemistry -I

60
60
30
8
Biology-I OR

Computer Science

60
50
60
50
30
50
Total Marks

1100
New Smart Syllabus for Matric and Intermediate 2023
No,M-49-01/PCTB/2020: The Competent Authority, Punjab Curriculum, and Textbook Board in its 75th meeting dated 07, 12.2020 has approved the condensed syllabus / Accelerated Learning Programmes (ALPS) 'for all Compulsory and Elective Subjects of Secondary and Intermediate Levels for Academic Session 2020-21 for teaching to students in limited available time owing to COVID-19 Pandemic.
The said Accelerated Learning Programmes (ALPO for Class 9th and Class 10th and class 11th and class 12th are also available on PCTB website (pctb.punjab.gov.pk) for information to all stakeholders.
This notification is issued for information to all educational institutions of Punjab, Azad Jammu & Kashmir, and Board of Intermediate and Secondary Educations for papers' setting for the forthcoming Secondary and Intermediate Examinations 2023.
Download BISE GRW Smart Syllabus 2023
Accelerated Learning Programme (ALP) for Matric and Intermediate.
| | |
| --- | --- |
| Smart Syllabus | Download PDF |
| ALP booklet 9-10 .ai 1-9-2020 | Download |
| ALP booklet 9-10 electives full | Download |
| Alp11-12 full_compressed_compressed | Download |
| Final ALP 11-12, 28-10-2020 | Download |
| Notification ALP Class 9th, 10th, and 11th, 12th Colour | Download |
| Special education 9-10 full | Download |