BISE GRW Grading Scheme and Minimum Pass Marks: Check BISE Gujranwala Board Grading system for all classes (SSC (9th class, 10th Class) and Intermediate (11th, 12th Class).
The Board of Intermediate and Secondary Education, Gujranwala (BISEGRW) uses six different grades from A+, A to E to represent the score in different subjects.
BISE GRW Grading Scheme
The final result of BISE Gujranwala will be prepared, and grade will be given, after compiling the Part-I and Part-II results. To qualify for a grant of the Intermediate Certificate, a candidate must pass in all subjects offered according to the Scheme of Studies.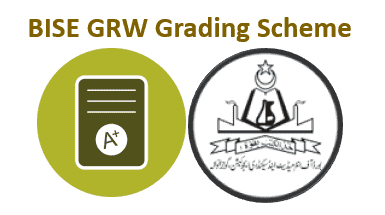 60% or above = First Division
45% to 59% = Second Division
33% to 45% = Third Division
The following abbreviations may be used in the BISE GRW Result 2023 Notification.
R.L. Fee: Result Later due to non-adjustment of Fee 
R.L.E:  Result Later due to Eligibility 
R.L.E (P): Result Later due to Eligibility (Permission)
N/E: Not Eligible
RL Memo: Result Late due to Missing Memo Form
RL UMC : Result late on account of unfair means cases
RL. D/B Result later for wants of date of birth
RL Memo/Photo Result later for wants of the document in respect of candidates.
Subjects and ABBREVIATIONS