BISE Faisalabad Board Grading Scheme & System with minimum passing marks 2023: the Board of Intermediate and Secondary Education, Faisalabad (BISE FSD) has introduced new Letter Grades formula for SSC and HSSC education.
Letter Grades are assigned to the students based on the average aggregate number of marks of the best Four out of Six tests during two years of Education. In BISE Faisalabad, the SSC (Secondary School Certificate) consists of 2 years of Education class 9th and class 10. Similarly, the HSSC (Higher Secondary School Certificate) also consists of 2 years of Education class 11th and class 12.
BISE Faisalabad Grading Scheme
Successful candidates (After BISE FSD Result) shall be issued a Matric or Intermediate Certificate, showing the subject-wise and an aggregate number of marks together with the Letter-Grades based on their performance in the public examination and calculated according to the following formula:-The criteria for determining Letter Grades are for both SSC and HSSC.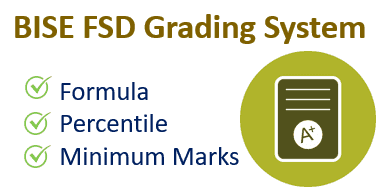 | | | |
| --- | --- | --- |
| Percentage of Marks | Grade | Remarks |
| 80% and above | A-One | Outstanding |
| 70% and above but below 80% | A | Excellent |
| 60% and above but below 70% | B | Very Good |
| 50% and above but below 60% | C | Good |
| 40% and above but below 50% | D | Fair |
| Below 40% to 33% | E | Satisfactory |
| Below 33% | F | Unsatisfactory |
The Head of Institution may at their discretion, forward the names of students obtaining Grade 'F' in the internal assessment for admission to the Secondary School Examination. However, the Board does not encourage the submission of the names of such students.
BISE FSD Minimum Pass Marks
The minimum pass marks in an individual subject shall be 33%. In a subject with two papers, the candidate shall be required to obtain 33% of the total marks of the two papers taken together, provided that in a subject with practicals, the candidate shall have to pass in Theory and Practical separately. The minimum pass mark in a practical has 20 marks. It shall be 7.
To qualify for the grant of Secondary School Certificate (SSC 1 and SSC 2), a candidate must pass seven subjects, provided that he/she would be free to qualify in the eighth subject in any subsequent examination before taking the next higher examination, Provided further that no candidate would be allowed to change the Board for his/her examination in the eighth subject. A fresh certificate will be issued on surrendering the previous one if the candidate qualifies in the eighth subject.