NAT Result 2023 Search By Roll Number Pakistan National Aptitude Test (NAT) Pakistan.  The National Testing Service (NTS) recently conducted National Aptitude Test (NAT) on 6th May 2023. The test result likely to be announced on Monday 14th May 2023. However, the Result Card will start dispatch from Friday 18th May 2023.
NAT Result 2023
This is the fifth National Aptitude Test is being conducted by NTS, Pakistan for admission into NTS-associated universities / DAIs (degree awarding institutes). If a candidate qualifies for this exam then the candidate will be eligible for admission to all universities in the respective subject group.
As a matter of fact, the candidate will get 1 year time for admission. Because the result of the NAT test is only valid for "ONE YEAR".
After the NAT Test and the NAT result,  candidates will be required to apply for admission to the universities as per their respective announcements along with a copy of the NTS result card.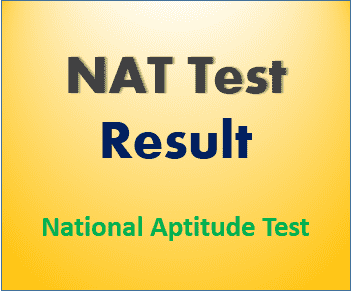 NTS NAT

Provisional Eligible List

2023
NAT Provisional eligible candidates list will be displayed on NTS website nts.org.pk on first come first served basis of the registration form (within one week of the receipt of the registration form). Queries regarding provisional data will be accepted within 4 days only.
The final eligible candidates list will be uploaded 2 days after the last date of the provisional list. Roll number and test center will be allotted in the final eligible candidate's list. The roll number slips will be dispatched by NTS about 10 days prior to the test date. NTS will dispatch the result cards within 7 days after the test date.
How to check NAT Result 2023 By Roll Number
Now students have an easy solution to find NAT Result 6th May 2023 online and also NTS allows students to Recheck of GAT™ / NAT™ & Duplicate GAT™ / NAT™ Result Card in case of loss. Check the following steps to find your NAT V Result 2023 online.
First visit to the official website URL: nts.org.pk
Second, in the main menu
Third: the result list page will open, now look at

National Aptitude Test (NAT-V) Result 2023 

Now click on the result link and the NAT Result page will appear.
Fourth 

Please Enter Roll No. or CNIC

 : 

Enter the Security 

Code 

:

Finally, click on the search button.

Result Card
If your result card is not delivered to you within 20 days of the dispatch date. Contact NTS for duplicate result cards (free of charge). After that date you will have to deposit an online fee accordingly in any nearest branch of Allied Bank Ltd. and send the following to the address below:
1. Written Application (Mentioning Roll No., Test Title, Test Date, and Test Score)
2. Online Deposit Slip (Original NTS Copy)
If you want your GAT/ NAT Paper to be rechecked, please deposit the online rechecking fee accordingly in any nearest branch of Allied Bank Ltd. within 15 days of the announcement of the result. Otherwise, your rechecking application will not be entertained. Send the following to the address below:
Check List
1. Written Application (Mentioning Roll No., Test Title, Test Date, and Test Score)
2. Online Deposit Slip (Original NTS Copy)
Download Required Documents https://www.nts.org.pk/new/downloads.php