Mardan Board Matric Result 2022 Online (UPDATED): Board of Intermediate and Secondary Education (BISE) Mardan matric result 2022 likely to be announced in July 2022.
As soon as the result date is published, students may check Mardan Board Matric Result 2022 online www.bisemdn.edu.pk. However, the board allows students to access the same by Roll Number and by Name. Parents may download top ten position holders online.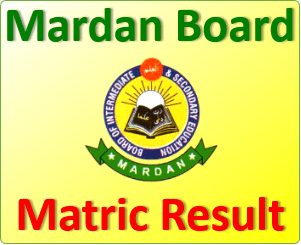 Matric Result 2022 Mardan Board
The BISE Mardan board ensures smooth conduct of matric examinations, allow new students for conducting their matric exam. In addition, the board also provides certificates to its passing candidates as well as provides no objection Certificates.
The matric exam is equivalent to a 10 class exam. After the matric examination student gets admission into the higher secondary exam. This year the board commenced the examination on Wednesday, 14 March 2022.
Board of Intermediate and Secondary Education (BISE) Mardan allows  Regular and Private students to appear in matric exams in different streams like Science, Arts, and general. However,  all Govt. & Private institutions students also appeared in Matric annual exam.
Mardan Board Matric Result Date 2022
BISE Mardan Khyber Pakhtunkhwa 9th/10th Result will be available for students at 07:00 AM on 05 July 2022.
BISE Mardan Board Matric Result 2022 is going to announced by July 2022. As a matter of fact, the board did not update any exact date and time for the result publication. Furthermore, as we said, it is expected that result will be announced on the ending dates of July.
Before the result is publish online, the board first announced the result statactics and Certificates of Merit i.e. top three position holders in various categories at matric examination level.
How to Check BISE Mardan Matric Result 2022?
The Mardan Board Online Result 2022 can help a student to search Mardan Board Matric Result 2022 online. The board provides options to search results by name and roll number.
First: Visit the official website of www.bisemdn.edu.pk.
Second: At the top main menu, click on "Student Corner".
Third: A drop-down sub-menu will appear, click on "Online Result -> Matric".
Finally, the "Mardan Board Matric Result Online 2022" page will appear.
Now you have three options to search results online.
Option 1: Search Matric Result by Roll Number. (Enter your roll number and click on View)
Option 2: Search Matric Result by Name. (Enter your name and click on View)
Option 3:  Search Matric Institute Result. (Select your Institute name and click on View)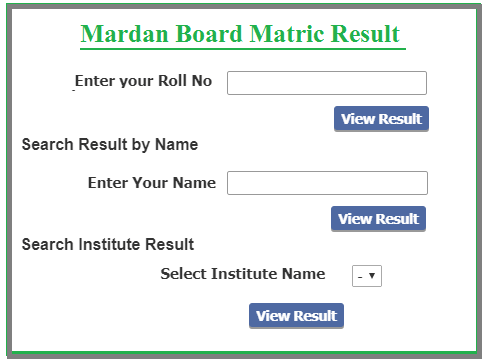 How to get the Matric result via SMS
eDMC service is for providing the result of examination to the students of BISEM through an SMS and eDMC ( subject vise detail). Now Students of BISEM can easily check their results everywhere by sending a single SMS to 8583. They will receive their detailed result in a message response.
The candidates have to send their matric annual exam roll number in a message to 9818 and will receive the required information/Result on his/her mobile.
Go to Write Message then Type "BISEM" <<ROLL Number>> and send it to 9818.
For e.g. BISEM 223654156 send it to 9818.
Transcript
All Students regular and private can receive their DMCs from the Schools or Colleges where they appeared for Examination. DMCs are dispatched to the respective schools/ colleges after the declaration of the result.
Transcript/ Detailed Marks Certificate (DMCs) are verified at Secrecy Section. The fee of verification is charged at the rate of Rs. 200/- (two hundred only) per document.
To get updates on Mardan Board Result 2022 to check the official website or join our Facebook page for more updates