Mardan Board 9th Result 2023 Online: BISE Mardan Board Result SSC (also referred to as Class 9 and Class 10th) 2023. The board announced the SSC both part 1 and part 2 results on the same day.
So, students of 9th class and 10th class must search 9th class result of BISE Mardan Board online by roll number and name. The BISE Mardan Khyber Pakhtunkhwa 9th/10th Result will be available for students at 07:00 AM on 05 July 2023.
Mardan Board 9th Result 2023
The Mardan Board SSC exam is also popularly known as Class 9th (SSC 1) and Class 10th (SSC 2).  The Senior Secondary Certificate (SSC) consists of two years of schooling known as 9th and 10th. After successfully qualified SSC exam students to get admission into Higher Secondary School Certificate (HSSC).
The board is expected to announce the SSC Result 2023 by July 2023.  We will guide all the students on "how to check Mardan Board 9th Result 2023". Every year the BISE Mardan conducted SSC Part 1 (9th) and Part 2(10th) exams once a year. As a matter of fact, in recent years the board publishes the 9th and 10th result on the same day.
The Mardan Board is one of the reputed boards in the Khyber Pakhtunkhwa region. There is a total of eight boards in this region recognized by the BISE Pakistani Government. The board also offers  Affiliate institutions imparting 9th and 10th education within Pakistan and abroad.
How to check Mardan Board 9th Class Result?
To cope up with technology the Mardan Board upgraded their education system from manual work to automatic work. Nowadays it is easy for students to check Mardan Board 9th result 2023 and Mardan Board 10th result 2023 online as well as other ways. All the students including private students may check and download the topper list from the Science Group and Humanities group.
Visit the official website of www.bisemdn.edu.pk.
Check at the TOP menu bar
Find menu  "Student Corner".
Upon over your mouse pointer, a drop-down sub-menu will appear,
click on "Online Result -> SSC".
Finally, "Mardan Board SSC Result Online 2023" page will appear.
Now you have three options to search results online.
Option 1: Search SSC Result by Roll Number. (Enter your roll number and click on View)
Option 2: Search SSC Result by Name. (Enter your name and click on View)
Option 3:  Search SSC Institute Result. (Select your Institute name and click on View)
Last year in 2017 the student (boy) who topped the SSC 2017 scored A-1 total marks 1051 from Institution: The Quaid-E-Azam Public School Zaida, Swabi.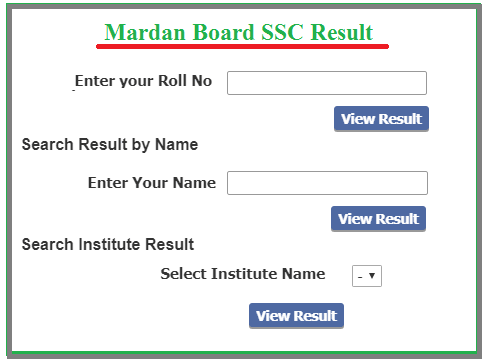 How to Check Mardan Board 9th Result Via SMS?
Board of Intermediate & Secondary Education Mardan and A2Z E-Payments has made an agreement on SMS Result. This facilitates students of BISEM through an SMS and eDMC ( subject vise detail).
The user/Student will send the roll number in a message to 8583 and will receive the required information/Result on his/her mobile.
* For example: Write in message DMC 123
Send it to 8583
SMS Response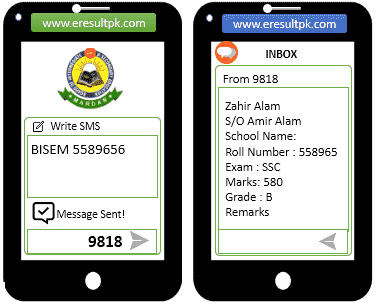 In general, the Mardan Board 9th class Original Certificates of regular successful candidates will be handed over to their respective schools/colleges. Therefore, the students are advised to contact their respective schools/colleges in order to receive their Original Certificates prior to visiting the Board Office.
To get updates on Mardan Board Result 2023 to check the official website or join our Facebook page for more updates