Board of Intermediate and Secondary Education (BISE), Lahore Result 2023: Lahore Board Result Official Website result.biselahore.com. Students may check their annual and supplementary exam results by name, roll number, and institute name.
BISE Lahore Result 2023 is like to be published in different months for different classes. For example, the 9th class result (SSC 1) in the month of August, the 10th result (SSC 2) in the month of July, 11th class result (inter 1) in October and the 12th class result is on September.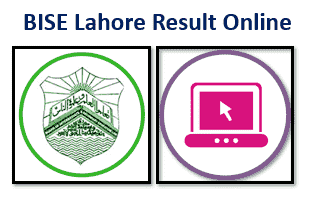 BISE Lahore 2023
Board of Intermediate and Secondary Education (BISE), Lahore is located at Punjab province Pakistan. The main function is to conduct the SSC and HSSC annual and supplementary examinations in this province.
Moreover, the board is also responsible to provide a good educational framework to organize, regulate, develop and control Intermediate and Secondary Education in Punjab province. The main function of BISE Lahore 2023 is as follows.
Affiliation: Give Affiliation to various institutions for Secondary and Higher Secondary education within Pakistan and abroad.
Mode of Instruction: Drafted various courses of instructions.
Facilities: Monitor and ensure required facilities in the affiliated institutions.
BISE Lahore Result 2023
The BISE Lahore Board provides multiple ways for students to check or search their results by name, roll number, and institution name. In addition, students can also obtain their results by using Mobile SMS. However, students may collect result cards from respective schools.
On the result published to date, the board not only published results they also released the Top Position Holders name with marks by gender, group, etc.
As a matter of fact, before checking bise Lahore results students must know the exact date of the result declaration. Otherwise, you can't find your result information online.
BISE Lahore Expected Result Date 2023:
Board of Intermediate and Secondary Education (BISE), Lahore is likely to be released the result in the following months. The following table shows the tentative Lahore board result released dates. The exact result date will be updated soon. In general, the BISE Lahore result is released at 10:00 AM Pakistan Standard Time (PKT).
| Name of The Exam | Tentative dates |
| --- | --- |
| 9th Class Result (SSC 1) | 20th August 2023 |
| 10th Class Result (SSC 2) | 21st July 2023 |
| 11th Class Result (1st Year) | 9th October 2023 |
| 12th Class Result (2nd Year) | 2nd September 2023 |
| Supplementary | within 30days from the date of result |
How to check BISE Lahore
Result 2023 Online?
Let's start the main discussion, "How to search result by name or roll number or institute name"? In this section, we will give you the exact way to check and search the Lahore board result online. Just remember the following steps.
First, Goto the Lahore Board Official Website: www.biselahore.com
Second, On the Home page, click on Result 2023. After that, a new subdomain ("result.biselahore.com") will appear.
Third, Now Select your examination name (either Matric or Intermediate)
Fourth, Now enter your Roll Number.
Fifth: From the dropdown list select your examination type (Part 1 or Part 2 or Supplementary) and select examination year as 2023.
Finally, click on the "View Result" button.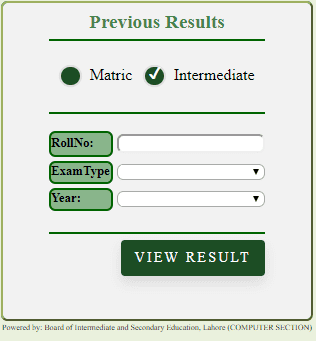 Note: Students should download a copy of their result card for future reference. Although it can't be treated an original result card.
How to check BISE Lahore
Result 2023 via Mobile SMS?
Before you take your mobile, make sure the result is released by the board official. Because SMS is chargeable. Therefore, after the official announcement, you can get your annual or supplementary result by sending SMS via mobile. Note the following steps to get the same.
SMS Format for BISE Lahore Board 2023:
Go to the write message option on your mobile phone then type the following format.
[Roll Number] 800295
For eg., if your SSC annual exam roll number is "1001201" then write as follows
1001201
Press the send button to 800295
It is NOT recommended to use this technique only when you do have an Internet connection or facing slow Internet speed.
BISE Lahore Board Result Card
With the declaration of the result, the Result Cards bearing paper-wise marks and other essential information would be issued to the private candidates on the addresses given by them in their admission forms whereas the regular candidates will get their Result Cards from their respective institutions.
As BISE Lahore board has its own grading system therefore instead of marks result in card show grade score. If you have any confusion then you can look at BISE Lahore grading criteria.
All inquiries regarding the result of the candidates may be addressed to Assistant/Deputy Controller Examinations (Inter)/Phone No. 99200192-97,99200118 Ext. 205,206.
86-Mozang Road, Lahore
Tel:+92 42 99200192-197
Fax:+92 42 99200113
Email: info@biselahore.com
To get updates on Lahore Board Result 2023 to check the official website or join our Facebook page for more updates.