Multan Board 9th Class Result 2022 (UPDATED): Board of Intermediate & Secondary Education, Multan is likely to be announced their 9th Class Result 2022 in the month of August. Students can check it by searching their name and roll no online. On this page, you will find the expected date of the Multan Board 9th Class Result and how to search your result online and via SMS.
In order to be eligible to appear in the 9th class, a student must pass the 8th class result by PEC. In addition, The minimum age of a candidate of 9th class is 13 years on 1st August of the year in which he /she will appear in the SSC (Part-I) Examination.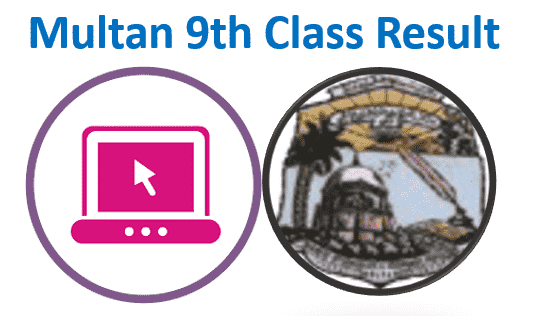 Multan Board 9th Class Result 2022
The Admission in the 9th class will be made in accordance with the schedule approved/ issued by the respective Board. It is compulsory for the regular candidates to appear in the 9th class annual examination. This examination is conducted once a year. As a matter of fact, there is no supplementary examination in IX std. The Multan Board 9th Class Result is released after the written and practical examinations.
The BISE Multan board usually takes 60 to 90 days for preparing the result card. On the result publication day, the board also prepare a list of 20 top position holder names in boys and girls. In addition, the board also awarded scholarships and made prizes for position holders. However,  you can check the expected date of Multan Board 9th Class Result 2022 and top updates regarding the same.
As a matter of fact, the candidates should complete 75% attendance as a regular candidate in respective institutions in each class. The duration for theory & practical examination will be in accordance with the published syllabi/curriculum. All students of class 9th must score a minimum of 33% in each subject in order to get a promotion into 10th class.
Expected Date of BISE Multan 9th Class Result 2022
In general, the 9th class result of the Multan board released in the month of August. Last year due to Covid-19 the annual examination was canceled. Therefore, no result is published. As a result, this year the board is likely to be published the 9th class result 2022 on 20th August 2022.
| Name of The Exam | Tentative dates |
| --- | --- |
| 9th Class Result (SSC 1) | 20th August 2022 |
The above-mentioned data is tentative. Therefore, if there are any changes in the publish date we will update them here. So keep checking this page for more updates.
How to Search Multan Board 9th Result 2022 Online?
As soon as the result is published by the Multan Board authority, all students including regular and private can search their result by name and roll number. Check your score or marks in online is very easy. You must follow the following steps to search result online.
First, go to the BISE Multan official website web.bisemultan.edu.pk
Second, at the main menu click on "Exam & Results"
Third Under the drop-down menu  click on "know your result 9th"
Fourth: now 9th result form will appear, here you have to enter your roll number and select your session either "Annual 2022".
Finally, click on the submit button.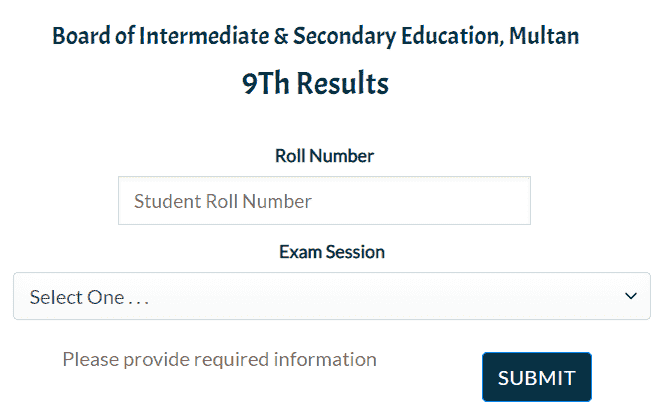 Multan Board 9th Result 2022 SMS Code
Sending SMS code from mobile is the easiest way. No internet connection and smartphone is required. If you have enough balance then try the following code to get your Multan board 9th result 2022 within a minute.
SMS Format 
Go to the write message option on your mobile phone then type the following format.
[YOUR Roll Number]
For eg., if your SSC annual exam roll number is "333666" then write as follows
333666
Press the send button to 800293
Note: There will be no supplementary examination for the 9th Class. If a Private candidate who appeared in Part-I (9th Class) Examination and obtained less than 33 % marks in any subject/s or remained absent in that part will be allowed to re-appear in 9th class Examination in any group at any time provided he did not appear / absent in Part-II
(10th Class) Examination.
To get updates on BISE Multan Result 2022 to check the official website or join our Facebook page for more updates.