ETEA Test 2023 (Medical and Dental) Registration Open Apply Online. The Entrance Test is conducted by the Khyber Pakhtunkhwa Educational Testing & Evaluation Agency (ETEA) for admission into Medical and Dental Colleges.
ETEA is Education Testing and Evaluation Agency. Educational Testing and Evaluation Agency Khyber Pakhtunkhwa, is an educational entity established in November 1998, by the Government of Khyber Pakhtunkhwa – Technical Services Maintained by Veevo Tech.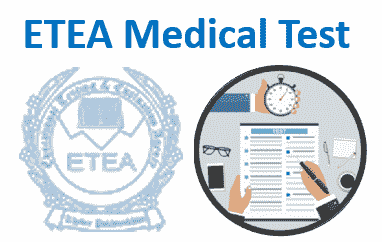 ETEA Test 2023
It's a test-taking body and it takes tests for different purposes. In Khyber Pakhtunkhwa, also known as KPK or KP, the tests for Public Sector Medical Colleges (MBBS & BDS Admissions) are also conducted by ETEA Agency. Below are all the details you need to know before applying for the ETEA Medical Entry Test in 2023.
ETEA Medical Entry Test is given by those who are aiming to get admission in any government medical college (either for MBBS or BDS Admissions) of Khyber Pakhtunkhwa. The main colleges in which you can get admissions are as under,
1. Ayub College of Dentistry (Abbottabad)
2. Ayub Medical College (Abbottabad)
3. Bacha Khan Medical College (Mardan)
4. Bannu Medical College (Bannu)
5. Gajju Khan Medical College Swabi
6. Gomal Medical College (Dera Ismail Khan)
7. Jinnah Medical College (Peshawar)
8. Khyber College of Dentistry (Peshawar)
9. Khyber Medical College (Peshawar)
10. Khyber Girls Medical College (Peshawar)
11. Rehman Medical College (Peshawar)
12. Saidu Medical College (Saidu Sharif)
13. Women Medical and Dental College Abbottabad
14. Al Razi Medical College (Peshawar)
These all colleges are under KMU (Khyber Medical University). You can also get admission on a reciprocal basis in medical colleges of Punjab, Sindh, and other parts of Pakistan.
ETEA Medical Test Date 2023
The Admission Regulations of the Pakistan Medical and Dental Council (PMDC) decides the entrance exam dates. With the decision of the Provincial Coordinaåon Committee for Medical Entrance Test 2023 is conducted.
The Khyber Medical University or KMU shall conduct the ETEA Test 2023 through Educational Testing & Evaluation Agency (ETEA), for admission to MBBS/BDS programs in Public and Private Dental colleges and institutions for session 2023. In general, the examination is held in the month of July.
ETEA Application Form – Apply Online
You can register for the test one month before the start of the test. The registration will be online. Students who have completed the 12th class or HSSC and are looking to apply for ETEA registration 2023, are advised to follow the below-given criteria to apply for ETEA application form 2023:
1) Visit etea.edu.pk or etea.online submit an online application form.
2) After successfully apply print the generated UBL deposit slip.
3) Visit any UBL branch and deposit exam fees- in the ETEA account printed on the UBL deposit slip.
4) Keep the candidate copy of the deposit slip with yourself and DO NOT SEND THE CANDIDATE COPY TO
ETEA OFFICE.
Once the applicants will submit the application form then they will be provided their roll number slips and admit card to the address they have mentioned in the application form.
Who Can apply ETEA Medical Test?
A candidate must have passed Intermediate/HSSC Group or Equivalent Examination (e.g., A-Level. 12th Grade, etc.) minimum of 65% marks. However, those awaiting the result of 2023 can also apply.
Candidates seeking admission in KMU AIIied Health Sciences undergraduate programs having obtained a minimum 60% unadjusted marks for DPT and 50% unadjusted marks for BS Nursing, BS Paramedics, BS Speech & Language Pathology, and BS Occupational Therapy in ESC (Pre-Medical) or equivalent examination should also appear in ETEA Test 2023.
ETEA Syllabus 2023
The syllabus of the Medical Entrance Test 2023 is available on the KMU website along with the ETEA website. The candidates are advised to prepare for the test according to this syllabus from their own textbooks. The syllabus is KPK Text Book Board books of FSc. All the test is made out of these books and nothing is out of course.
ETEA Medical Test Pattern 2023
The ETEA Test 2023 shall comprise a single question paper containing 200 multiple-choice
questions (MCQs) divided into the following four (04) sections: Biology = 80 MCQs, Chemistry: 60 MCQs, Physics = 40 MCQ sand English = 20 MCQs
There shall be no negative marking.  There shall be question papers of different codes in which the sequence of questions and their responses shall be different. The questions, however. shall be the same.
Subject

No of Questions

Biology
80
Chemistry
60
Physics
40
English
20
Total Question
200
 No Negative Marking each question carry 1 mark
 Time duration to attempt the paper shall be 150 minutes (2 hrs 30 minutes)
Download Full ETEA Medical Test Syllabus in PDF– Click Here