Date Sheet of 9th Class 2023: Check New & Revised Exam Date for SSC 1. The 9th class annual and supplementary written exam and practical exam are postponed till 30th April 2023. The new and revised annual and supplementary date sheet schedule will be released soon.
What is Date Sheet of 9th Class 2023? In Pakistan, all educational boards known as BISE (Board of Intermediate and Secondary Education) publish the 9th class an annual & supplementary examination date in a Sheet is called Date Sheet.
Recent Updates
Updated on 06 May 2023
The nine boards of Punjab's Intermediate and Secondary Education (BISEs) have devised three plans for the SSC and the HSSC examinations. According to this plan, the Remaining papers of the SSC 1 (9th) could be conducted from June/July, whereas the result would be announced in the first week of October/November, shows an official document.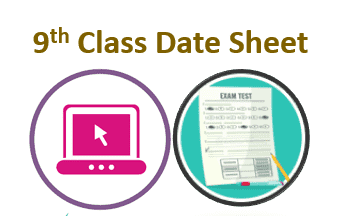 Date Sheet of 9th Class 2023
There are a total of 30 BISE boards in Pakistan. These boards are divided under provinces like Islamabad, Punjab, Sindh, Khyber Pakhtoonkhwa, Balochistan, Azad Jammu, and Kashmir. All the official announcements regarding the 9th class date sheet will be updated here. The 9th class date sheet contains written examination date and practical examination date for all subjects.
Board Name

Exam Date

Status

Date Sheet Link

February

Schedule for remaining papers of class 9th has not yet been decided by the competent authority. 

March

The remaining SSC (9th Class) Examinations are canceled throughout




the province Of Punjab.

2nd week of March.

9th Class Annual Examinations 2023 Shall Be Conducted In June And July 2023.

BISE Faisalabad
March

remaining exam postponed

BISE FSD Date Sheet
How to Download 9th Class Date sheet 2023
All private and regular students can download the date sheet from the official website of the respective BISE website. Students should verify the date sheet from the official source only. Do not download any date sheet from social networking or another general website. Read the following steps to download the latest 9th class date sheet from the BISE website.
On an important point, most of the official website end with edu.pk for example, www.fbise.edu.pk is for Federal Board but incase of Lahore Board www.biselahore.com therefore, you must the official website address.
Step 1: If you know the official website then type it in address bar else search <Your Board> official website on google.
Step 2: Now a list of search results will appear. In general, the first result might be your board official website.
Step 3: Look at the website very carefully and search for date sheet, if there is nothing then look for notification.
Step 4: Under notification or Notice there must be updates on Date Sheet. Just click on it and download the same.
In many cases, the board published the 9th class date sheet under the name of the SSC Date sheet. Therefore, if you can find the 9th Class option then find SSC Date sheets.